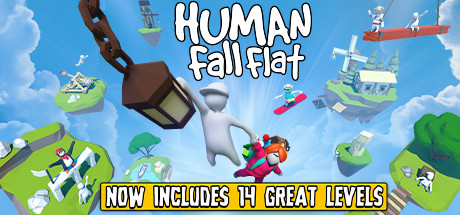 All trademarks belong to their respective owners.
Human review
If you are looking for a funny cooperative game, Human: Fall Flat might be what you need. Players should be rather patient to pass this tricky game step by step. The main character is Bob – a funnily shaped figure that a player can personalize using plenty of exciting options.
This little man cannot stand firmly on his feet. It will be a challenge trying to prevent him from falling, crashing, or drowning. Bob keeps on seeing surreal landscapes in his dreams. They create the game's unique atmosphere. The game makes players think creatively – there is more than one possible solution to every puzzle. The goal is to explore the open world solving as many problems as possible.
Features and Functions
The game offers plenty of exciting features that both parents and their kids may enjoy. One of the most exciting features of Human: Fall Flat is the parkour. The hero can walk, pull, carry, scramble, and interact with the items around. Thus, the primary mission is to master the necessary movements through relatively tricky controls.
The next feature is a local cooperative mode that allows enjoying the game with other players. It is possible to unite forces to solve complicated puzzles or just push each other having fun. Players can also create public lobbies.
Personalization is one more thing that a game boasts. Players will find many different costumes that almost make no sense but still look exciting: a constructor, a pet, a ninja, etc. One can put any of those on the main hero. In fact, it is possible to change the entire body shape of the funny man along with the smaller details to personalize your character.
Finally, this game also offers surrealistic landscapes. There are nine open levels that follow the principles of physics. Players can interact with all items they see around and experience full freedom of choice and action.
Interface
The interface might seem tricky. It is not that easy to control the main character, which appears as the doughy, fully untextured protagonist. It looks rather funny to prevent the hero from dropping necessary stuff and getting crushed by massive objects. The man's left and right hands are controlled individually. It increases the chances of messing up and failing.
There are several tiny issues caused by the mediocre interface. For instance, while picking items off the ground, were is no aiming reticle. Along with the character's tendency to stand in front of the camera, it results in grabbing the ground instead of the items that a player may actually need.
Conclusion
Human: Fall Flat is that type of game which might be more fun to watch than play. It is mostly thanks to the slapstick-style physics interface and tricky controls that may prevent a player from solving a puzzle. Those who are ready to try over and over to get lucky, meaning the patient ones, would probably enjoy the game. It also has many funny options like dressing up a character in ridiculous ways. The main character, Bob, is quite charming and cute. Besides, the players can interact with each other and help solve puzzles faster. If you do not play Human yourself, you may enjoy watching someone doing that.