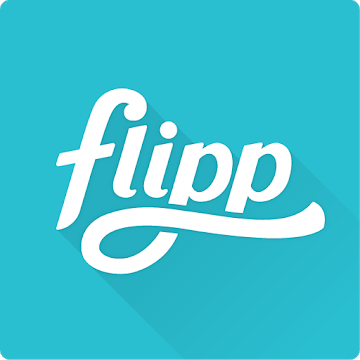 Flipp – Weekly Ads & Coupons
Author:
Flipp Corporation
Latest Version:
Varies with device
All trademarks belong to their respective owners.
Flipp – Weekly Ads & Coupons review
Is your weekly expenditure on grocery & essentials exceeding your budget limit? Flipp app will flip the situation for you. Get access to lucrative offers on an infinite range of products from reputable brands. Walk into a nearby departmental store or browse through online catalogs of online stores, utilize discount coupons and deals available on Flipp, and save considerable of money on every purchase.
A user-oriented search mechanism lets you discover products, brands, stores, coupons, deals, etc. Create and customize your shopping list and share it with your friends and family members. With Flipp on your side, you can efficiently manage household affairs without incurring heavy costs.
Features and Functions
The local stores regularly launch advertisements pertaining to discounts, offers, and other benefits. Flipp lists these advertisements in the form of flyers. By specifying your location, you can watch out for local flyers. Some of the stores that list flyers are Dollar General, Winn-Dixie, BI-LO, London Drugs, Walmart, and others. The fascinating display of advertisements compels buyers to check out various deals, and settle with the one that ensures maximum benefits. The online stores covered by Flipp are The Home Depot, Dick's Sporting Goods, Best Buy, Walgreens, Macy's, Lowe's, and others.
Shopping list feature lets you plan your purchases at any point in time. For example, you can curate a shopping list including necessary items. Keep a tab on numerous deals available on these items. Grab the best offer, add the item to your shopping cart, and proceed with the purchase. You can save a hefty amount of money by following this procedure. To search for items, filter your search on the basis of brands, retail outlets, type of product, and so on.
Similarly, you can use filters to scout for deals, offers, and coupon codes on Flipp app. If you own loyalty cards, you can use coupons meant for privileged customers. Use these coupons, along with the loyalty card, at the checkout counter to avail massive discounts. Set up notifications about latest offers and updates from retailers and brands.
Interface
Flipp app interface has been designed in a way to showcase maximum deals to the users. With so many colorful flyers and banners, the interface looks elegant and vibrant. The intuitive touch allows you to scroll down, zoom in & zoom out, clip coupons, organize shopping lists, and much more. The majority of the links are mentioned at the bottom of the screen. The simplified layout allows you navigate without any difficulties. The use of subtle colors like white and blue highlights the bright advertisements on the interface.
Conclusion
Shopping for grocery items and essentials is an unavoidable aspect. The exorbitant rates of these items can rob you of your hard-earned money. Flipp app facilitates availing quality items at the most reasonable price. You can actually save on each and every item purchased via Flipp. The presence of multiple stores simplifies your job of availing customized offers using loyalty cards.
As you can create your shopping list, the shopping task becomes a lot easier. Keep a vigil on the cash backs and discounts availed using Flipp app. The app version adjusts according to the Android OS version and technical configuration of devices. Thus, you can expect smooth functioning at all times.