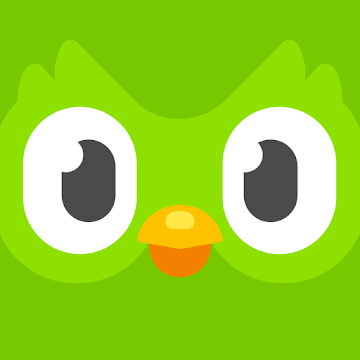 Latest Version:
Varies with device
All trademarks belong to their respective owners.
Duolingo review
Duolingo is the most popular cross-platform service for language learners from all around the world. Over 300 million people use it to start a new language, maintain their level, and expand knowledge. You can download Duolingo: Learn Languages Free for Android and iOS devices on Play Market, App Store, or Amazon AppStore for free.
Features and functions
Duolingo is the biggest online library of language courses. The latest version includes 90 language courses adapted for 22 languages, including European, Asian, African, Middle-Eastern, dead, and fictional tongues like Latin and Klingon. The entire app looks more like a mobile video game than like an app for studying to be more engaging for you in a long-term perspective. Every task you complete brings several lingot-credits to the in-app wallet. You can use these credits to buy cosmetic items for your Duolingo Owl pet or additional levels.
One more feature of mobile games is the public leaderboard. It allows you to compete with friends and the rest of the world to evaluate progress. Specific challenges and objectives will reward you with profile badges that show how experienced you are. You can also take part in weekly XP-races to get into 1 of 10 leagues.
In 2012 Duolingo: Learn Languages Free was scientifically proved to be effective for beginners and those who study language in a classroom. That's why it's a popular app for school and university students. It's generally popular amongst Spanish learners. On the other side, there's not much sense in using it if you're an advanced learner of any language.
Interface
Duolingo has an elementary gamified user interface with white background and descriptive icons for objects and topics. Such simplicity makes it approachable for both preschoolers, university students, and adults. The app's mascot, a green owl, will help you understand tasks better and reward you with prizes for good results.
Conclusion
Duolingo: Learn Languages Free is a unique opportunity to try studying a new language absolutely for free. Choose one of 90 courses and start right away. Make sure that you can also visit some more language courses with real teachers to break the language barrier and learn advanced knowledge and details because Duolingo offers mostly superficial language overviews. Duolingo works well on devices running Android 4.1, iOS 9.0, or any later OS versions.