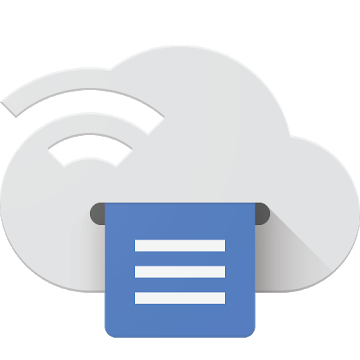 Latest Version:
Varies with device
All trademarks belong to their respective owners.
Cloud Print review
In our seemingly wireless world, we still need to print some papers from time to time. If you're a student or an office worker, you will probably find this Cloud Print app from Google pretty useful.
If you are tired of mess caused by wires and cables install Google Cloud Print app for mobile devices to print documents and files wirelessly on connected printers. The app displays all the connected printers on the local network and allows you to send commands from your phone gallery, email attachments, web browser, and so on.
The Cloud Print app is free to use if you have a Google account.
Features and Functions
The Cloud Print app lets you print pretty much anything from a compatible smartphone or tablet with the Internet connection. To do that, your printer has to be connected to your local network that has internet access, and the printer also has to be cloud-connected. But if you have an old-school printer, don't get upset – chances are it's able to work with Cloud Print as well! On the Google site, you can find a list of models that are compatible with the app and find out how to connect the particular printer to your device.
To use Cloud Print, you need a Google account. With this app, you can print not only documents but also photos from your smartphone, even the photos from gallery itself. The thing is, not all the applications are supported by Cloud Print, and that is a solid con.
You can track the status of your print jobs with Google Cloud Print which is pretty useful. Also, you can send printer invitations to other people so that they will be able to print documents from your printer. That can be very helpful when one of your colleagues is on a business trip, and they need to send a document to your office printer.
There is also the PC version of the app. It's available on many web-pages: if you see a "Print" button with the Cloud Print logo, you can print the page without leaving your browser.
The app seems to be a little bit unreliable for me as sometimes I can't find the documents after trying to print them. So, I recommend you to store any important information somewhere else if you don't want it to be lost.
Interface
The Cloud Print interface is intuitive and easy-to-use. There are panels for everything you need: print jobs, printers, settings, and so on. I figured out how to use the app pretty quickly, so I hope you won't have any troubles as well.
The app's design resembles that of the other Google apps and services, so you will probably have no problems getting used to it. It's pretty strict and neat, and there's nothing in excess. As Cloud Print is an app primarily for study and work, I believe such design just nailed it.
Conclusion
With the Google Cloud Print app, you can print not only texts but also photos, including photos from your smartphone's gallery. You can control all standard print settings such as color, paper size, and more. The app also allows you to share documents with other users, and this makes work and studying even more effective.
Unfortunately, not all of the printers are compatible with the Google Cloud Print app. And not all applications are supported by Google Cloud Print. While using the app, you can face some serious bugs and fails.
With its pros and cons, Google Cloud Print is anyway a useful productivity tool for work, studies, and everyday life. It's a free way to print documents and photos from pretty much anywhere that will come in handy whether you're a businessman, an office employee, or a student.