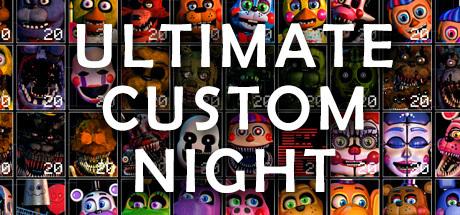 All trademarks belong to their respective owners.
Ultimate Custom Night review
The horror of Five Nights at Freddy's (FNaF) continues here with the animatronics, as this scary franchise introduces new characters and more scary scenes to scare the bejeezus out of you. This game is not just confined to the space of your game screen. You'll be panting, cowering and having bad nightmares with each close encounter. And even if you do master how to keep off the animatronics, they come in even scarier than before. With 20 difficulty levels, it doesn't get any more sadistic than this.
The premise is unique: choosing the antagonist or the enemy that will hunt you and cut you off in the most brutally surreal way, yet going ahead with the plan.
Features and Functions
If you're new to this game, then most of the 50 characters that you choose are from preceding FNaF titles and worlds. Your objective is to survive the night without being cut off by some crazy robot animal. To do this, you have to keep an eye on and operate several mechanisms, some to be maintained at optimum levels. This includes doors, ventilation machines, air ducts, radiators, generators, and other things through which the animatronics could get to you. You are locked in an office where you have to survive the night from being menaced by these creatures, and there is a controls screen which new players might find almost incomprehensible.
Understanding these robot characters is essential as they react differently to different stimuli. Thus, reducing temperature with the cooling AC has an adverse effect on one creature but can stimulate another to kill you effortlessly. On top of that, you also have to collect floating Faz-Coins which can earn you power-ups and slow down animatronics. Death coins, if utilized, eliminate certain animatronics completely from the current game.
The objective of the game is quite simply to survive, which is impossible on the first try. A puzzle could be held somewhere waiting to be discovered.
Interface
Don't expect much movement with animatronics as you would in regular games. The interface is one of its own creepy design: imagine a robot fox version of Freddy or Jason. The cartoon characters are elaborately established, with each having a distinct personality. Your office has gloss, and the fan mechanism in front of the 2D render complete with a shadow, and the singing doll makes it seem like you are actually in a 3D room, which is ingenious. While you may feel the static setting wear you out after playing for hours, the scary effects and that eerie soundtrack will have you thinking little about the UI.
Conclusion
Ultimate Custom Night is a game that exceeds expectations for folks who are unfamiliar with the franchise. You could spend hours on it as you can never be too sure what to expect. There is a slight learning curve in the game, but this is all part of the mechanics that make you become a better player. Ultimate Custom Night uniquely defines itself as a stand-out in the horror genre without having to employ turbocharged CGI engines. You never know when your gamble will pay off as you try to keep the animatronics away, and it all comes down to prayers and chance.