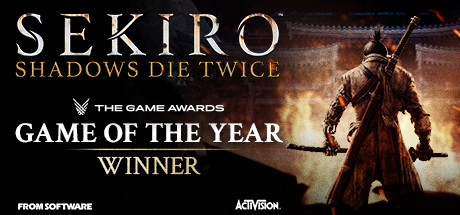 Sekiro™: Shadows Die Twice
All trademarks belong to their respective owners.
Sekiro™: Shadows Die Twice review
Perhaps, you know the incredibly addictive loathing that comes from playing Dark Souls for a while. Well, Sekiro™: Shadows Die Twice is made by the same team of developers, the Japanese FromSoftware studio. Luckily, this title is not that extremely hardcore by default and it preserved high replayability and immersion of the legendary Souls series by Hidetaka Miyazaki.
Features and Functions
Sekiro: Shadows Die Twice is an action 3rd-person melee combat RPG experience with a strong emphasize on attacking enemies rather than defending from them. However, there are much fewer role-playing elements than in Dark Souls. You can't create a unique character, but there are a skill-development tree and a few customization options.
The action takes place in ancient feudal Japan. This setting is a creative combination of Japanese traditionalism, folklore, and grotesque fantasy. If there were a genre named ancient-punk, this game would perfectly fit it. The protagonist, Wolf, is an ancient magical bionic, or someone like that. He lost his arm and hand trying to defeat one of the best samurais of the Isshin Ashina clan. Despite such a deadly wound, Wolf was saved by a mysterious Carver who gave him a new stronger hand made of bones. You can upgrade it with a hook to do stunts and jump over rooftops and attach a small flamethrower, shuriken thrower, a spike, and other helpful stuff.
The general fighting mechanic requires you to distract enemies and finish them off with power-attacks as soon as their concentration is broken. Simple enemies die after a single attack, while bosses need 2 or more deadly throws. You can try to eliminate them with simple stealth attacks. Enemies have a wariness scale, that gets full when you leave the shade. If Wolf dies, he can revive at the same place if it's his first death during a mission. Otherwise, you have to start over again.
Interface
Controls of Sekiro are perfectly adapted for both gamepads and keyboards, so it's a pleasure to play on any platform. Like Dark Souls, this title is powered by a proprietary engine, so visuals are just perfect. The level of detalization and animation smoothness is impressing.
Conclusion
It is one of the best Japanese franchises of 2019, and it's going to become classic. It's not only about vivid fights, but also about a rich story with a complicated historical and mythological background. It received only admired reviews by major gaming editions and players. You can play Sekiro: Shadows Die Twice on PS4, Xbox One, and PC.